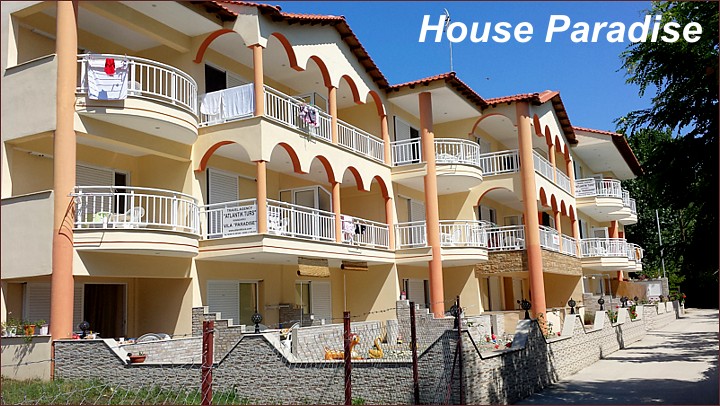 For a quiet and relaxing holiday, we look forward to welcoming you at the newly built "House Paradise" in Kalamitsi, Sithonia, Halkidiki.
Our family run business comprises three and four bed studios, all fully equipped with cooker, toilet/shower, air conditioning, television and veranda. Barbeque facilities are also at the disposal of our guests, as well as private parking, and the supermarket is very close by for all your daily needs.
The clean sandy beach with its azure blue waters is 110 m away, and there one can find restaurants and cafeterias.
Our excellent friendly service, combined with the beautiful landscape (a combination of azure blue and green) will make your holiday an unforgettable experience.

Pricelist

01/05 - 10/06
11/06 - 6/07
07/07 - 06/09
07/09 - 31/09
2-bed Studio
25,00 € per day
40,00 € per day
50,00 € per day
35,00 € per day
3-bed Studio
30,00 € per day
45,00 € per day
60,00 € per day
40,00 € per day
4-bed Studio
35,00 € per day
50,00 € per day
70,00 € per day
45,00 € per day
For special offers and reservations please contact us.
HOUSE PARADISE
Kalamitsi - Sikia
Sithonia - Halkidiki
Greece
Zip 63072
Contact Person
Angeliki & Stella Kotroni
Tel. (+30) 2375094077, 2375053812
Fax (+30) 2375094453
Mob. (+30)

6973855433
E-mail: house-paradise@halkidiki.com
---
| Home | Back | Greek | Deutsch |
Copyright © 1997 - 2017 halkidiki.com. All rights reserved.
All content is property of respective owners.
Unauthorized reproduction by any means is strictly prohibited.