Information about Toroni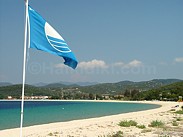 Toroni
is a village located at the southwestern tip of the peninsula of Sithonia, 20 km from Neos Marmaras and 130 km from Thessaloniki Airport. It is a beautiful tourist destination, appropriate for quiet and relaxing holidays. The beautiful sandy beach with crystal clear waters extends for 3 kilometers and offers panoramic views across the Toroneos Gulf and the Aegean Sea. Laid out along the beach and next to the parallel road that crosses it, Toroni offers all modern comforts during your summer vacation. Here you will find a variety of accommodation for your stay as well as supermarkets, restaurants and a beach bars where you can enjoy your coffee, ice cream or drink overlooking the beautiful sunset.
Its history begins very early as it is referred as a colony of Chalkidean in the late 8th century BC. It was one of the richest cities of Halkidiki, and its name often rises both in Xerxes' campaign in southern Greece in 480 BC and during the Peloponnesian War.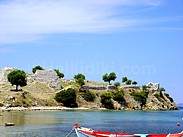 Today's visitors can see the ruins of the wall of Likithos (one of two citadels of ancient Toroni), the small peninsula on the south side of the beach, and the round windmill in the homonymous place. It is also worths visiting the site of the early Christian basilica of St. Athanasios. It was built in the 5th century, destroyed by fire in the 6th century and in its place was built a new one, but later it was destroyed again, and today only the mosaic of the nave is preserved.